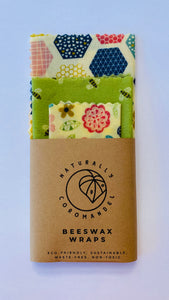 Fresh and vibrant colours in a honeycomb theme, sure to brighten your day!
Eco-friendly, sustainable, waste-free and non-toxic.
A great starting point for your plastic-free journey, or a great top up of assorted sizes. Perfect for:
- lunch boxes
- general kitchen use
- gifts - simply pop into an envelope and send on its way.
Great for school lunches, cheeses, nuts and snacks on the go, over bowls, half an avocado and more! Choose from two set size packs:
Starter Pack includes:
1 x small 18x22 cm
1 x medium 27x33 
1 x large 33x36 cm
 Caring for our bees, people and planet.
Ingredients: Cotton fabric, beeswax, pine resin, coconut oil.
Care: simply hand wash in cool water with eco friendly detergent when needed, and air dry. Not for use with raw meat or hot foods