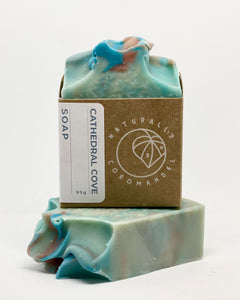 Of Sea, Sand and Stone.
The Coromandel's iconic Cathedral Cove has it all.
Enjoy the smell of sweet citrus and berries, along with fruity floral notes.
Ingredients - Coromandel rainwater, saponified oils of olive, coconut, sunflower & castor, cocoa butter, fragrance oil, mica powder.
Vegan friendly.
Please note: The flavoured oils we use for this soap are made from a combination of natural and synthetic materials and do not contain any phthalates.