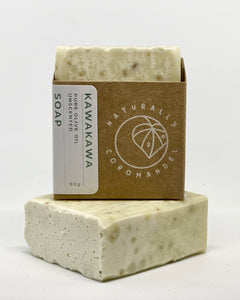 A mild, gentle soap made with 100% saponified olive oil, with no added colour or scent.
Our Kawakawa soap is made from kawakawa infused tea with home grown Kawakawa leaves. We select the leaves that have insect holes in them, as it is believed that the insects naturally know what is the best leaf to chew.

Kawakawa is known to calm and soothe dry, itchy, irritated skin and skin prone to eczema.
Ingredients - Coromandel rain water, saponified olive oil, kawakawa leaves
Vegan friendly.