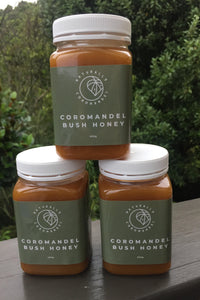 Our hives target the rich and diverse nectars of the Coromandel bush, and we're so excited to bring you this stunning, creamy honey.
Depending on the rhythms of nature, and which particular species flower each year - our native bush blend varies from season to season - and we think that's pretty special!
It means every year brings a different blend of nectars, each crop a limited edition!
Enjoy on toast, in hot drinks, smoothies, as an alternative to sugar, or straight off the spoon!
 Our 'Goldilocks' 500g jar - not too big, not too small, but just right!
Perfect for gifts, the bach, the caravan or home pantry.