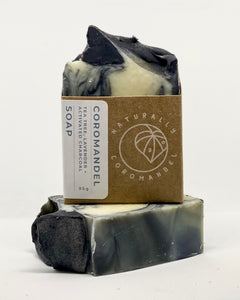 They say The Coromandel is good for your soul, well our Coromandel soap is good for your body as well.
If you've ever visited the Coromandel, you may have noticed a mānuka tree or two...
So we've made tea tree the star in this earthy soap,  it contains antibacterial, anti-inflammatory, antiviral, and antifungal properties, finished with activated charcoal and it's detoxifying properties, as well as a touch of lavender for balance, this is one of our favourite soaps.

Ingredients - Coromandel rain water, saponified oils of olive, coconut, sunflower & castor, cocoa butter, 
tea tree & lavender essential oils, activated charcoal.
Vegan friendly