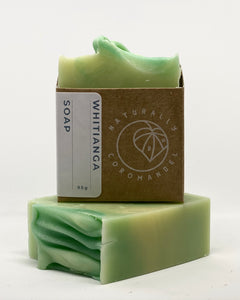 Fresh and uplifting with notes of lemon, orange and kiwifruit,  middle notes of eucalyptus, cassis, green tea and base notes of cedarwood and vanilla. 
Another favourite in the Coromandel range!
Ingredients: Coromandel rain water, saponified oils of olive, coconut, sunflower & castor, cocoa butter, mica powder, fragrance oil.
Vegan friendly.
Please note: The flavoured oils we use for this soap are made from a combination of natural and synthetic materials and do not contain any phthalates.